Authorised retailer for Dreyfuss Watches. Dreyfuss and Co. are a range of watches designed around the life of master horologist René Dreyfuss. René Dreyfuss was the son of Moise Dreyfuss, the founder of Rotary Watches. The watches in the range are all named after an important event in René Dreyfuss' life. As well as the fascinating story behind the watches, Dreyfuss and Co. watches have a reputation for quality, reliability and beautiful design. The motto of Dreyfuss and Co. is "tradition is remembered long after price is forgotten" and the watches
Brand History
The history of the brand is also told through the watches within the range! René Dreyfuss was born in
1890
and followed in his fathers footsteps by creating his own watch company Dreyfuss Fils in
1925
. In
1953
René's collection of clocks became a museum attraction and in 1974 René decided to retire. Years later, in 2005 Robert Dreyfuss, the son of René Dreyfuss, launched the Dreyfuss and Co. brand to pay homage to the legacy of his father.
Truly Individual
Dreyfuss and Co. watches are handmade in Switzerland, this makes each watch truly individual. Each Dreyfuss and Co. timepiece is the result of generations of watch making expertise and a compliment to the art of watch making. When you receive your Dreyfuss and Co. watch you can find a| number on the back of each case, which is individual to each wearer.
The Seafarer Standard
The Seafarer Standard can be found on the entire Dreyfuss and Co. range (apart from the 18k gold models). Dreyfuss and Co. proudly state that this standard means the watch is totally waterproof and impervious to water. This means your watch is completely protected against water, whether you want to take your watch swimming, scuba diving, wind surfing or just into a hot bath!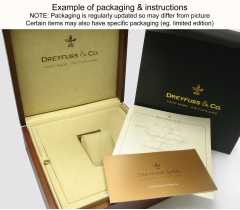 Official Dreyfuss UK dealer
Great prices and savings on high street RRPs
Make us an offer service
Thousands of online reviews - average rating 4.9 / 5: Google Reviews - Trustpilot - ResellerRatings
Free bracelet adjustment available on metal watches
Over 20 years of high street watch and jewellery experience
---